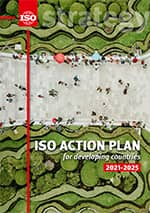 ISO Action Plan for developing countries 2021-2025
Year of publication: 2021
ISO's Action Plan maps out how ISO aims to contribute to improving developing countries' economic growth and access to world markets and helping to achieve sustainable development.
en
Format
Language

pub

1

0

Paper
* Shipping costs will be charged
More information
Got a question?
Check out our FAQs
+41 22 749 08 88
---
Opening hours:
Monday to Friday - 09:00-12:00, 14:00-17:00 (UTC+1)
Keep up to date with ISO
Sign up to our newsletter for the latest news, views and product information.